Soy is the most commonly used protein raw material in feed production. It is a concentrated raw material with a good composition for most animals, and is an effective feed that plays an important part in helping Swedish farmers to deal with competition from imported foods. Domestic protein ingredients from rape, peas and field beans, for example, do not cover current demand for feed protein in Sweden and have difficulty in competing on price with imported soy.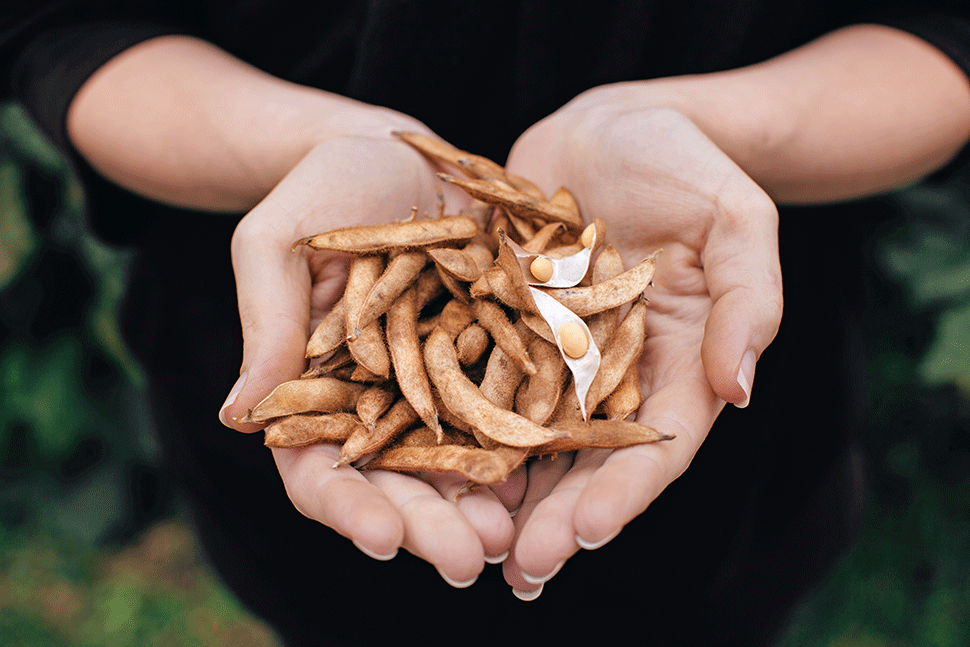 In several parts of the world, soy growers are expanding at the expense of savannah areas and biodiversity, and are displacing indigenous populations. A large portion of the world's soy production occurs in Brazil and other countries in South America, where valuable habitats are being exploited to create new cultivable areas. Other common problems in soy production include poor working conditions for the farmers and use of unauthorised pesticides.
Active work on several fronts
The challenges associated with the production and use of imported soy have long been a priority issue for Lantmännen. We have conducted active work on a number of fronts for several years.
Lantmännen is a major player in the Swedish feed market, and purchases a total of about 110,000 tonnes of soy per year. Although we are a major player in our home markets, Lantmännen purchases less than 0.5 percent of the soy produced in Brazil. We are therefore dependent on dialogue and cooperation with other players in the industry, nationally and internationally, in order to exert an influence and bring about change.
100 % certified soy
In 2010, the international round table process RTRS (Round Table on Responsible Soy) introduced a standard for responsibly produced soy. The criteria include the protection of rainforest areas, pesticides and working conditions for growers.
ProTerra is another organization that certifies responsible soy production, using the Basel Criteria for Responsible Soy.
Since 2005, Lantmännen has been a member of RTRS, and we were among the first companies in the world to start buying certificates from responsibly produced soy when it came out on the market. Since 2015 we only buying soy certified through either RTRS or ProTerra, or organic soy according to KRAV or from a traceable cultivation accoding to the Swedish Platform for Riskmaterials definition, also verified by third party.
The Swedish Platform for Risk Commodities
Since 2014 Lantmännen together with WWF and approximately 30 other Swedish companies and organisations work to increase responsibly produced soy used by the Swedish food sector.
The Swedish Platform for Risk commodities' agreement states that 100 percent of the soy today used in food from the participating companies shall be responsibly produced from 2015 and onwards. This commitment can be fulfilled either by purchase of certificates according to RTRS (Round Table on Responsible Soy), by traceable certified soy according to ProTerra's criteria or organic certified soy. It could also be purchased from a traceable cultivation area that is assessed by the Platform for Risk materials to fulfil criteria and with an external party verification of the assessment. An example is soy from certain geographical areas in Canada.
Focus on alternative protein crops
We are also working to evaluate and develop alternative protein sources. Agrodrank, a by-product of ethanol production, is the main alternative at present. Lantmännen Agroetanol has annual production of 175,000 tonnes of protein feed that can replace over 100,000 tonnes of soy. We are working to further develop this product in order to fully exploit the potential. Lantmännen also sells protein crops, such as peas, field beans and oil seeds, to farmers so they can grow protein feed on their own farms.
Locally produced feed – without soy
In Lantmännen's feed range we also offer locally produced feed using Swedish and European raw materials, with no soy or palm oil products. The Nötfor Nära range is one such example.