10 000
hectares cultivated acreage (app 14,000 football pitches)
568 000
tons harvested grain within the program since 2015
59 000
ton CO2 climate emissions saved since 2015
About the program
At Lantmännen, we have always taken responsibility for the future. The profits our cooperative generates are reinvested in Swedish farming – for example, to develop new, better and more sustainable cultivation methods.
For us, the program is an important step towards our long-term climate targets and more sustainable production. With measures for biodiversity and reduced climate impact, we have reduced our climate footprint from wheat cultivation by 30 percent since 2015, while creating more favorable conditions for skylarks and insects. This is done while maintaining a good cultivation yield and high grain quality.
Farmers who are growing crops in line with the program work according to the latest of our developed cultivation methods, including fossil-free fuels on the farms, climate-smart mineral fertilizer, precision farming with GPS technology and skylark plots and flower zones in the field. Via contract cultivation, Lantmännen guarantees payment for both the crops and the measures implemented.
Fossil-free fuels
Crops are cultivated and dried without the use of fossil fuels.
Traceability and mass-balance
The program's measures that do not directly affect the raw material itself, e.g. using fossil-free fuel in the tractor or setting up skylark plots, are contracted according to a so-called mass-balance principle. Mass-balance means that grains that have been cultivated on farms included in the program are mixed together with other grains in our supply chain. This has the consequence that we cannot trace the measures included in the program back to the farms and therefore cannot guarantee that the content of the product you have bought has been grown according to Climate & Nature.
Instead, we contract Climate and Nature grain corresponding to the volume we sell and always take height to cover any increased demand. The cost that separation within the entire supply chain would entail would have pushed up the market price of climate-friendly grain in an, in our opinion, unnecessary way. Which in turn would have made it more difficult for us to jointly achieve our common climate goals. On the other hand, we can guarantee that all grains are responsibly produced and originates from sustainable Swedish farms. We also promise that you, by buying Climate & Nature, directly contribute to our ability to cultivate larger grain volumes in line with the program.
Since the launch in 2015, the cultivation program has reduced carbon dioxide emissions and environmental impact and promoted biodiversity.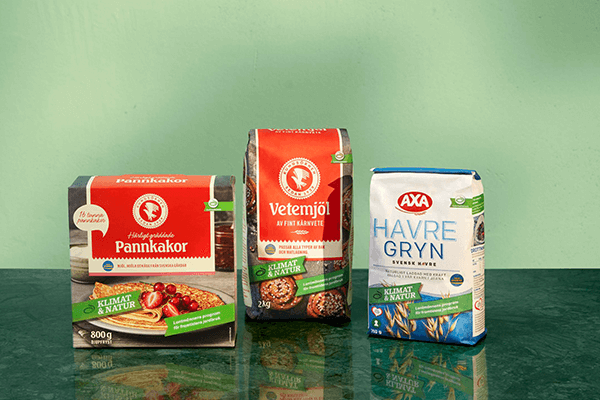 Products with up to 30% reduced climate impact
By choosing products marked with Climate & Nature, you not only get responsibly produced high-quality products – you are also investing in farming of the future.