It was a match made in heaven. Minna Cousins, Director of Business Operations in Sales and Marketing at Vaasan and Mikko Kaijansinkko, Category and Portfolio Manager at Vaasan Commercial Operations had been working on a concept that explored ready-to-eat sandwiches. The 2020 Greenhouse was themed "Bread goes Future" and seemed like the ideal opportunity to further develop their idea. A slot opened up and it was too good to deny. Today, nearly two years later, they've just received their first listing decisions for Vaasan-Chef Lunden, their soon-to-launch ready-to-eat, filled sandwiches.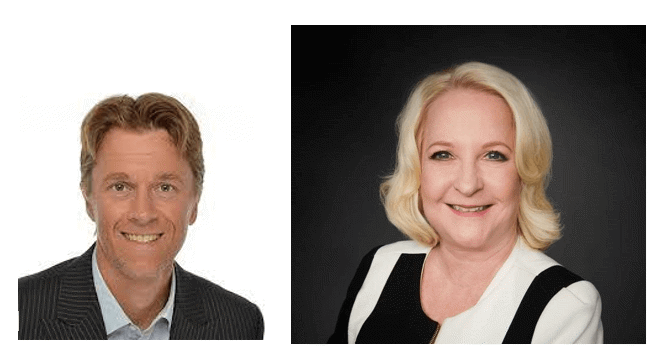 Mikko Kaijansinkko and Minna Cousins, Vaasan.
"The Greenhouse program was a perfect "torture test" to validate the concept to fit and contribute to our value-based brand strategy at Vaasan. It's an amazing platform for business development and innovation culture for future successful businesses across Lantmännen," Minna says about their Greenhouse experience.
The duo's idea revolved around sustainable, healthy filled sandwiches. During the program, they teamed up with Finnish food industry company and sandwich-filling expert, Lundén. Together they performed market- and consumer research to develop a product that could grow the ready-to-eat sandwich market in Finland - and help Vaasan enter the playing field. They called the execution "a match made in heaven" because it was all about two companies developing a better solution together.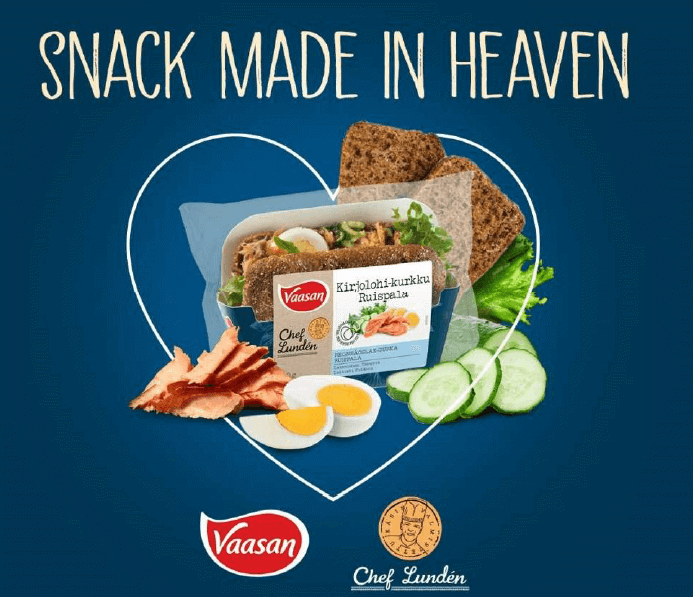 "It's been a genuine collaboration. With a larger team of participating professionals executing the entire project throughout a pandemic, it feels extraordinarily special to be this close to launch," Mikko says.
Ham and cheese, yet anything but basic
The collaboration set out to improve and emphasize the role of bread in filled sandwiches from a nutritional and sustainable point of view. The final product lives up to that, and some more.
"Our rye is the biggest selling bread in Finland and our oat portion bread is the most preferred wheat bread. On the other hand, Lundén is the market leader in filled sandwiches. As people are looking for better nutritional value and good quality, they can now have their favorite Vaasan bread filled with fresh and great-tasting fillings by Lundén," Mikko says.
The concept aligns with the UN Sustainable Development Goals, especially as they pertain to Health and Well-being, Responsible Consumption and Production and Partnership.
Challenging, refreshing and rewarding
Although the Greenhouse is an accelerator program, Mikko emphasizes the value of entering with a rough idea, because that's when the program adds real value:
"The program gave us the time and resources to further develop the idea, as well as focus on consumer pain points and needs. This is what allowed us to fine-tune and get a more holistic view. There were so many good exercises throughout - like digging deep to discover what makes your proposal remarkable, and writing and practicing your pitch. It was also beneficial receiving input from other teams and to see their work, which inspired our team to aim higher."
The most memorable experience for Mikko and Minna was the Dragon's Den, the Greenhouse grand finale where participants get to pitch their final ideas to top Lantmännen executives.
"The Dragon's Den forces you to be sharp with your idea, and really package what you are selling in only seven minutes. It's fun and intimidating, but above all else, rewarding. Of course the Teams environment made it a bit more complex. It requires a lot of group collaboration and coordination," Mikko says.
Dreaming of bread
Mikko is looking forward to this year's round of innovation under the umbrella of smart farming as more and more consumers are appreciating the transparency of sustainability programs, biodiversity and so much more. If he were to give a word of advice for this year's participants it would be to move and learn fast. "Get feedback immediately from your core audience and proceed. Don't build something all the way to its final stage before testing."
While we gear up for this year's Greenhouse we can't wait to see what becomes of this match made in heaven. "I dream of our breads being the number one food choice for healthy and happy everyday life. The first item on our shopping list. Every Day," Minna concludes.