The ThermoSeed production line marks the production start of the world's cleanest seed. The annual capacity of the site is approximately 15 000 tons, equivalent to 375 truckloads. Sales has already begun in Lantmännen Argo's shops in Finland.
During the last couple of years Lantmännen has invested heavily in the continued development of a more responsible and sustainable agriculture. In July 2021 Lantmännen was awarded the European Award for Cooperative Innovation in the category Biodiversity and Natural Resourses" for the unique heat treatment method ThermoSeed.
"In September, we announced the Finnish Climate & Nature program, where we commit to further develop an even more responsible rye cultivation. The ThermoSeed investment in Vihervakka is a natural extension of that work, where we, together with our partners strive to reduce the carbon footprint from farming", says Antti Snellman, CEO Lantmännen Agro.
The efficient ThermoSeed method fights plant deceases by treating the seed with hot steam. Using hot steam is an environmentally friendly and organic alternative to conventionally treated seed. Each seed batch gets a uniquely tailored steam treatment. The method has a documented effect equal to top ranking chemical treatments on the market.
"A unique treatment is prepared for each seed batch and the temperature of the steam varies according to the unique qualities of the seed", says Heikki Lehtimäki, CEO Vihervakkas.
An environmentally friendly and price matching alternative
Regardless of whether the farm is conventional or organically inclined, the ThermoSeed method is compatible to wheat, barley, oats and rye cultivation. Additionallt, ThermoSeed treated seed is compatible with all types of soil and the yields get as large as when using chemically treated seed.
"The price for seed treated with the ThermoSeed method is the same as chemically treated equivalents. In addition, surplus seed can be used as regular seed on the market or as feed, which is a considerable advantage compared to other products on the market", says Juho Urkko, Head of sales at Lantmännen Agro.
Further expansion follows high demand
In Sweden and Norway half of the seed used is treated with the ThermoSeed method and across Europe, many actors have followed and are investing in the method. For the coming season approximately 100 000 tons of seed will be treated with the method – an amount equivalent to 400 000 hectares, which in Finland corresponds to nearly half of all grain cultivation.
At Vihervakkas production facility final adjustments and tests are concluded to enable the production start in October.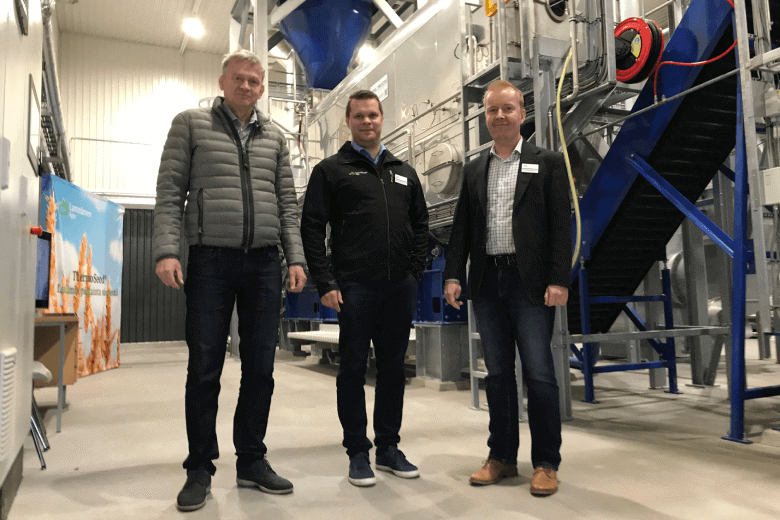 From left: Heikki Lehtimäki, CEO Vihervakkas, Juho Urkko, Head of sales at Lantmännen Agro and Antti Snellman, CEO Lantmännen Agro.
For more information, please contact: