Semper has made baby food with focus on good taste and nutrition for more than 80 years. Our brand contributes to the health of both people and planet through our sustainability work. Therefore, the collaboration with Lantmännen is an important step for us, where we engage in and contribute to more sustainable agriculture.

With Climate & Nature, it becomes clear how collaborations in the value chain can amplify sustainability ambitions and have a huge effect. I am Sustainability Manager at Semper and I see that we could lead the way in this area, for our entire Group. Semper, part of the international food group Hero Group, works with a sustainability strategy that encompasses the entire value chain. For example, we use energy from renewable sources in Semper's factories and offices, work actively towards reduced food waste, and take inspiration from the EAT-Lancet report in our product development. Climate & Nature gives us an opportunity to work in partnership throughout the chain, from agriculture to consumer.

We're very happy and excited to be involved in a research-based program like Climate & Nature. Sustainability work at Semper is based on research and through our parent company we are committed to the Science Based Targets initiative, with the aim to reduce our climate emissions according to the 1.5 degree target. With the help of life cycle analysis, we have gained a clear picture of our climate impact and see that primary production is the stage where the impact is the greatest. Therefore, Climate & Nature will help us achieve our climate goals.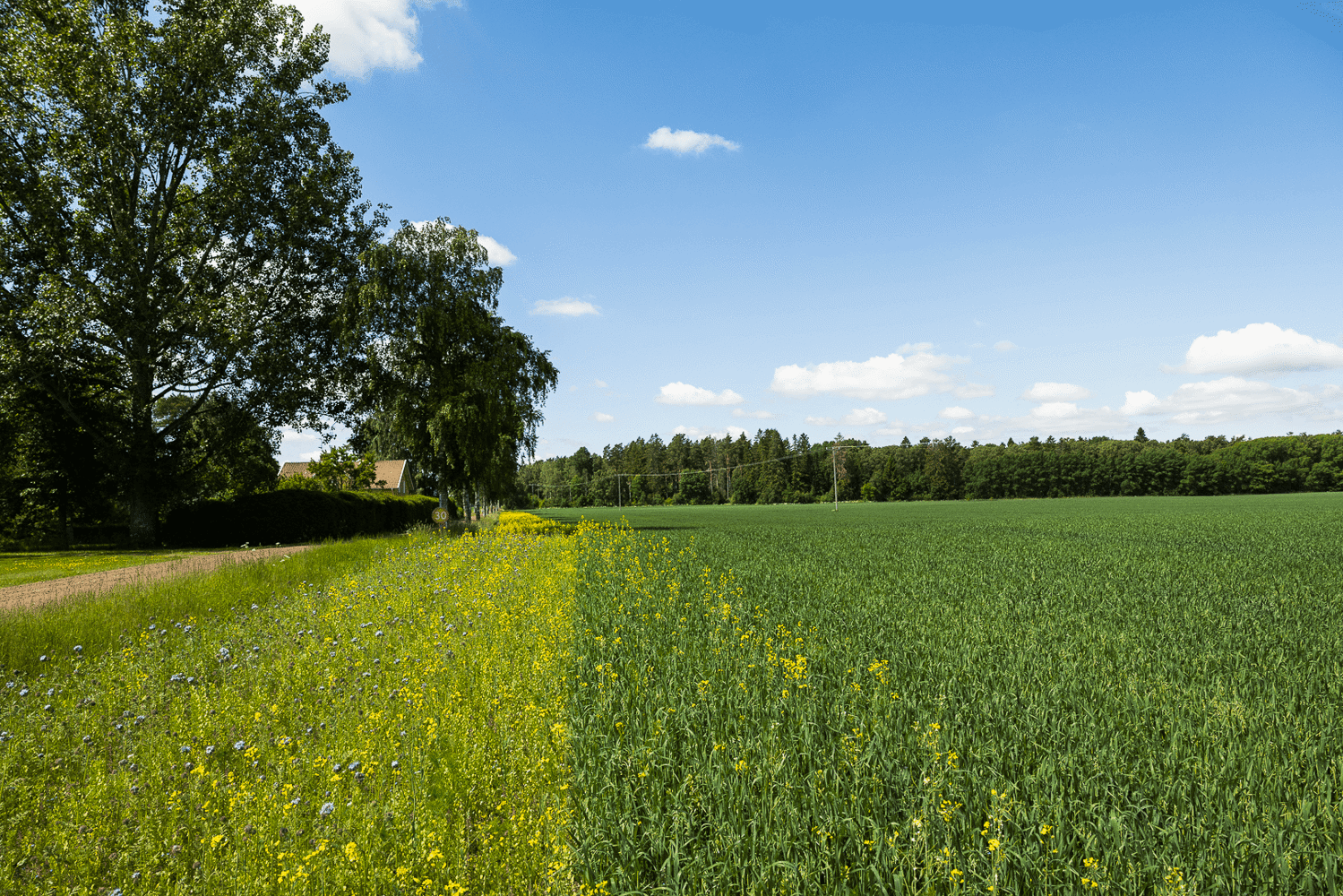 Flowering zone
Grain is a very important ingredient for us. Lantmännen Cerealia has been a supplier to Semper for a long time, they grind the grains into flour in their mills, which is then used in our products. For example, our gruel and porridge products contain oats, wheat and rye. Climate & Nature thus gives us an opportunity to raise two entire product ranges to a more sustainable level. It fits well with our mission; "Conserving the goodness of nature".

In 2023, oats, wheat and rye will be grown according to Climate & Nature. Mass balance within the programme guarantees that the volume we have contracted for is grown on Lantmännen's Climate & Nature farms - even if that volume might not end up in our gruel and porridge products. This gives us the opportunity to have a long-term perspective and commitment to the transition to more sustainable agriculture and at the same time, we can source Swedish grain from Lantmännen Cerealia that meets the strict requirements for baby food quality for our products. The grain's properties are influenced by, among other things, soil type and weather conditions at harvest, something that differs between farms. 

Field with skylark plots
For Semper, it is important to also include more factors than climate in our sustainability work. I am therefore happy that biodiversity is a focus area within Climate & Nature; without functioning ecosystems, food production is in danger. The cultivation program's initiatives for biodiversity – skylark plots, flowering zones and heat treatment of seeds that reduces chemical use – are important elements. A nice little detail in this collaboration is that a mixture of seeds, similar to the flowers found in the zones in the field, will be sent to all our employees. My colleagues can then grow flowers that benefit pollinators at home in their gardens or perhaps on a vacant plot in the area, and thus be involved in the exciting collaboration between Lantmännen and Semper.

The fact that we are now part of the Climate & Nature partnership is an example of how we take responsibility for the impact of the food system. We see it as a long-term commitment. We produce for children; their health and their living environment are in constant focus for us. We work to ensure that new generations of food connoisseurs can continue to live on a thriving and green planet.
* Mass balance means that the grain grown on farms included in the program is mixed together with other grain in Lantmännen's product flow. Consequently, the measures included in the program cannot be traced back to farm level and therefore we cannot guarantee that the content of an individual product has been grown according to Climate & Nature. Instead, Climate and Nature grain is contracted corresponding to the volume Lantmännen sells with enough headroom to cover any increased demand. Lantmännen can guarantee that all grain is responsibly produced, comes from Swedish sustainable agriculture and that by buying Climate & Nature you directly contribute to more farms being able to convert to more sustainable cultivation practices.
Marleen van der Wende Sustainability Manager, Semper