Looking ahead at the 2019 harvest
Last year's drought with a near halving of grain harvests dealt a severe blow to Swedish agriculture and will have consequences for several years to come. Lantmännen's experts have compiled a report ahead of the 2019 harvest with some positive signs - in particular the large autumn sown acreages that form the basis for next year's harvest look promising. Read more about the fall and spring sown crops, plant breeding, precision farming and other initiatives for the farming of tomorrow.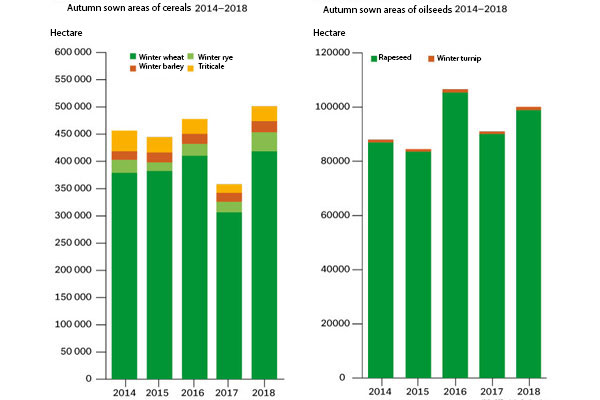 Source: Swedish Central Bureau of Statistics and Swedish Board of Agriculture
Positive prospects ahead of the 2019 harvest
"The prospects are looking good for the 2019 harvest based on the large areas that were sown during the autumn."
Mikael Jeppsson, Grain manager Lantmännen
The prospects are looking good for the 2019 harvest based on the large areas that were sown during the autumn. The autumn crops were sown on approximately 600,000 hectares in total, compared to 447,000 hectares the previous year and the five-year average of 510,000 hectares. The autumn sown grain crops increased by 40 percent (from 357,000 hectares to 501,000 hectares) and rapeseed crops by just over 10 percent (from 90,000 to 99,000 hectares). The favourable autumn weather has helped the autumn crops establish themselves well. However, groundwater levels around the country are low and significant amounts of rainfall are required to restore the water levels. International trade remains important in being able to handle large fluctuations in harvest volumes. Lantmännen has an established network, both through its own companies in and around the Baltic Sea area that can contribute to the supply of grain to Sweden, and via export deals.
Farmer's risk management in focus
Last year's drought has put an even greater focus on the farmer's risk management and as such, it is important to carefully consider the following questions when establishing sales strategies: What is the lowest price I can and want to sell for? What price would I be satisfied with if it were to rise? How much do I dare to sell as a maximum at different times as the crop develops? The answers to these questions form the basis for hedging sales, and it is possible to test several tools for hedging going forward, such as financial trading within Lantmännen.
Important steps to secure the harvest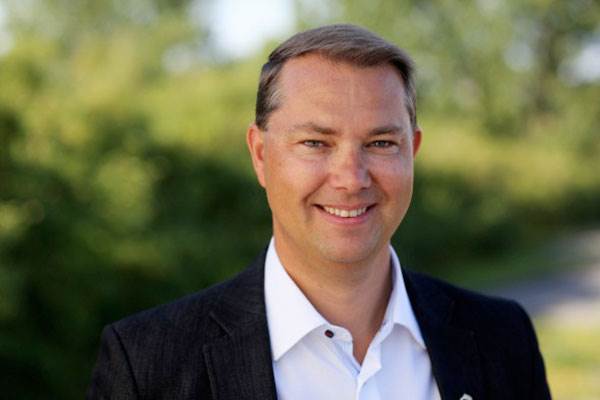 "It's important to have a good cultivation strategy when it comes to choice of crop, crop rotation, crop protection strategy and fertilising."
Peter Annas, Manager Crop production
There are several important steps to take ahead of the crop growing season 2019; having a good cultivation strategy when it comes to choice of crop, crop rotation, crop protection strategy and fertilising as well as adapting these steps to the potential of the crop – ideally at field level. Lantmännen actively works with precision farming, via technology company Dataväxt, our sales force and by our consultancy services supporting farmers in their decision-making. Fertilisation and the use of crop protection in an effective and sustainable way to optimise the harvest and profitability will be especially important these upcoming years. For several years the fertiliser prices have been pushed down by low energy prices and large export from China. The 2018-2019 fertiliser year also started with relatively low prices in June. In line with rising gas prices and reduced export from China however, prices rose sharply in the summer and early autumn of 2018 and then subsequently flattened. Lantmännen hedged a relatively large volume that could then be sold before the prices increased. Last year's drought meant that less fertiliser were used in Sweden during the year, many farmers did not spread the final batches and there was some leftover fertiliser on farms. Ahead of the 2019 harvest season, we expect fertiliser prices to be slightly higher.
Shortage of spring seed eased
When it comes to seed availability for spring sowing, the shortage situation has been eased via EU dispensations – seed is now permitted to be used for a season longer than what is normally allowed – and via imports. Prices have been pushed up due to an increase in raw material prices that follow the grain market, and by a reduction in the volumes available and quality challenges. With regard to access to seed ahead of autumn cultivation in 2019, the situation looks good so far, although we will be more dependent on the coming crop than in a normal year as the overlaying volumes are not as high as usual. The price will follow the market situation and price development on the grain market.
Swedish seed market a priority this year
With regard to price changes within seeds, prices internationally are more or less unchanged compared to previous years. Within organic farming, the price level is rising somewhat on account of increased demand internationally. Having said that, the sowing of seed for harvesting in autumn 2019 was hit as a consequence of last year's drought, which can mean a volume shortage for sales in 2020. Ahead of spring sowing in 2019, Lantmännen has chosen to prioritise the Swedish market and ensure availability for Swedish farmers via a temporary reduction in seed exports. We also see that the seed availability ahead of spring sowing in 2020 will be affected, with a risk of the content of certain grass seed mixes having to be reviewed in order to meet the needs of the Swedish market.
Feed in focus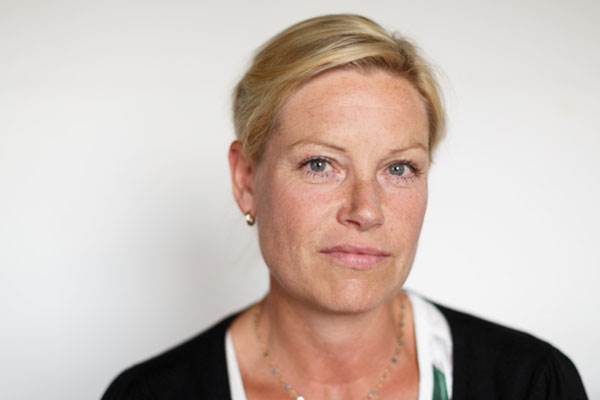 "To meet coming profitability challenges within the animal products sector as a whole, increased settlement prices will be required."
Kristina Gustafsson, Feed manager
Livestock producers were affected by last year's severe draught. Many of our dairy and meat producers' first harvests of roughage were halved, and many also experienced an even poorer second harvest. Some rain in the late summer enabled a third harvest to be brought in and, in certain cases, even a fourth harvest. Lantmännen's roughage substitute could resolve a big part of the shortage of roughage on farms, but with significantly increased costs as a result. Pig and poultry producers were also severely hit financially due to the nearly halved harvest in most parts of the country. Long abattoir queues and a surplus of piglets and eggs and settlement prices that were not in line with price movements on the market mean that the entire sector will continue to face financial strains.
To meet coming profitability challenges and create a stable market and growth within the animal products sector as a whole, increased settlement prices from the abattoirs and traders will be required. More extreme weather conditions will require farmers to show greater flexibility and contingency planning in situations where there can be a need for irrigation as well as capacity to hold raw materials. Flexibility will also be required within feed production in Lantmännen factories.
Lantmännen is putting a big focus on climate adapting its feeds. Sustainable production with climate efficient feeds will also contribute to maintaining high production on farms. When it comes to the feed range for beef cattle, Lantmännen has been able to cut its carbon footprint by up to 30% compared to earlier ranges, at the same price levels. For pig feed, the reduction is up to 10%. Lantmännen will continue to update and add to a national database of the most common Swedish produced raw materials, together with the Feed & Grain Association and other organisations. The database can help the sector continue to work together to reduce the climate impact of Swedish feed products.
Big investments in plant breeding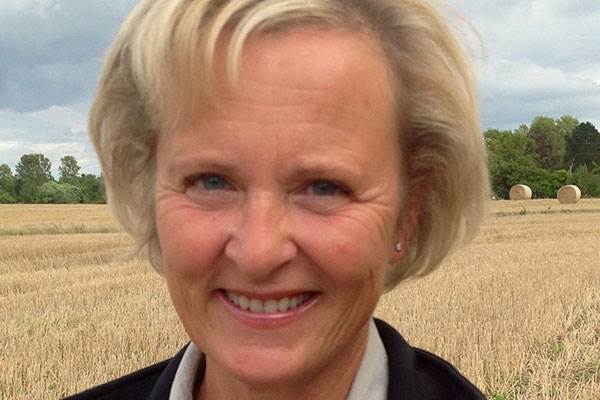 "Plant breeding offers us opportunities to develop new and more resilient crops with enhanced health benefits, adapted to Swedish conditions. This will be demanded moving forward."
Annette Olesen, Plant Breeding Manager
Plant breeding offers us opportunities to develop new and more resilient crops with enhanced health benefits, adapted to Swedish conditions and the needs of the industry. This will be demanded moving forward in the face of more extreme variations in weather and to be able to increase food production, while at the same time reducing the climate and environmental impact. We have been investing substantial resources in this area for a long time now, and this work is now being further accelerated, not the least via the partnership with Grogrund, the SLU Centre of Excellence for plant breeding. Lantmännen has initiated several large projects, such as the first cross breeding within the "Future Field Beans for Food and Feed" project, and we have started a project to further develop a robust and high quality wheat for increased food production. Research on perennial grain crops is also of interest in order to develop more resistant multi year crops with stronger root systems that can withstand future climate changes. But this research lies about 10-15 years further down the line.
Future irrigation measures
Another issue that has arisen in the wake of the drought is water consumption. The low ground water levels are worrying and there is a water shortage across pretty much the whole country today. Extensive rainfall is needed if we are to get the full potential out of the crops. If we experience similar droughts at more regular intervals in the future, it is something that farmers must factor in to their calculations, that is to ensure they have the resources and capacity to invest in irrigation measures. Various measures have already started to be tested by Swedish farmers to be able to withstand periods of drought in the future. On Gotland, they have recently been able to demonstrate a closed system where surplus water from fields, packed with nutrients, can be recycled to the fields if necessary – i.e. the system does not use ground water, of which there is a shortage around the country.
New precision farming centre in Skurup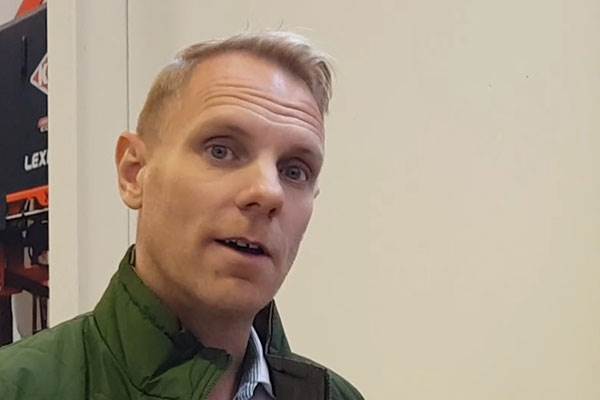 "Lantmännen's precision farming centre is a source of knowledge, know-how and machinery expertise that can help farmers to optimise the work in the fields."
Johan Wågstam, Precision Farming Specialist Lantmännen Maskin
Precision farming technology with connected machinery and equipment has both benefits for the environment and can also make sowing more efficient, producing larger harvests for the farmer. Lantmännen's precision farming centre, the first of its kind in Sweden, is a source of knowledge, know-how and machinery expertise that can help farmers to optimise the work in the fields, for example with regard to crop nutrition – with the right amount in the right place, which reduces the risk of nutrient leakage. Lantmännen is also involved in several research projects, such as with the RISE research institute and SLU Ultuna that have developed a test bed for new technology that will make farming more profitable and sustainable. Connected fields, self-driving electric agricultural machinery and advanced systems for data analysis are going to be tested and developed in the test bed. The research is conducted with a number of other technology companies, trade organisations, authorities and municipalities.
More Swedish grown protein crops
Going forward, we will also invest in developing various types of Swedish grown protein crops, both conventionally grown and organic. Over the past year, Lantmännen has test grown lentils, amaranth, chickpeas, lupin and quinoa in Sweden. We have also taken a closer look at rapeseed cake that has proved to have a very high protein content. All this with the hope of producing more green Swedish protein alternatives - on our plates and in our feeds, in the future. Vegetarian alternatives made from Swedish crops from our owners' farms are interesting for the future.