Pernilla Wahlquist, 28 years of age, grew up on the farm Lagestorp outside Vallåkra in Skåne. When Pernilla was younger, she was very involved with horses and was definitely not going to grow up to be a farmer. Although after being away for a few years after graduation, Pernilla realized how much she missed the farm and the longing to return became too great. Today, Pernilla and her father, Ingvar, manages the farm together and the plan is that she will continue to manage the farm by herself after her father's retirement in a few years.
"I like to follow the seasons and see how all the decisions you make play out in practice. It is a very varied job. Dad has always said that the land we cultivate on today should be passed on to generations to come. I like to always have the thought of sustainability with me."
The main business involves 250 hectares of crop production, including winter wheat, winter rape, spring barley, oats, sugar beet and peas.
When we speak, Pernilla and the family have had an intense Easter behind them. Her partner and her brother have also been at the farm to get everything in order for sowing.
"Everyone has helped each other, which is very fun. If you grew up on a farm, it is difficult not to be sucked in, everyone is needed and get to help out."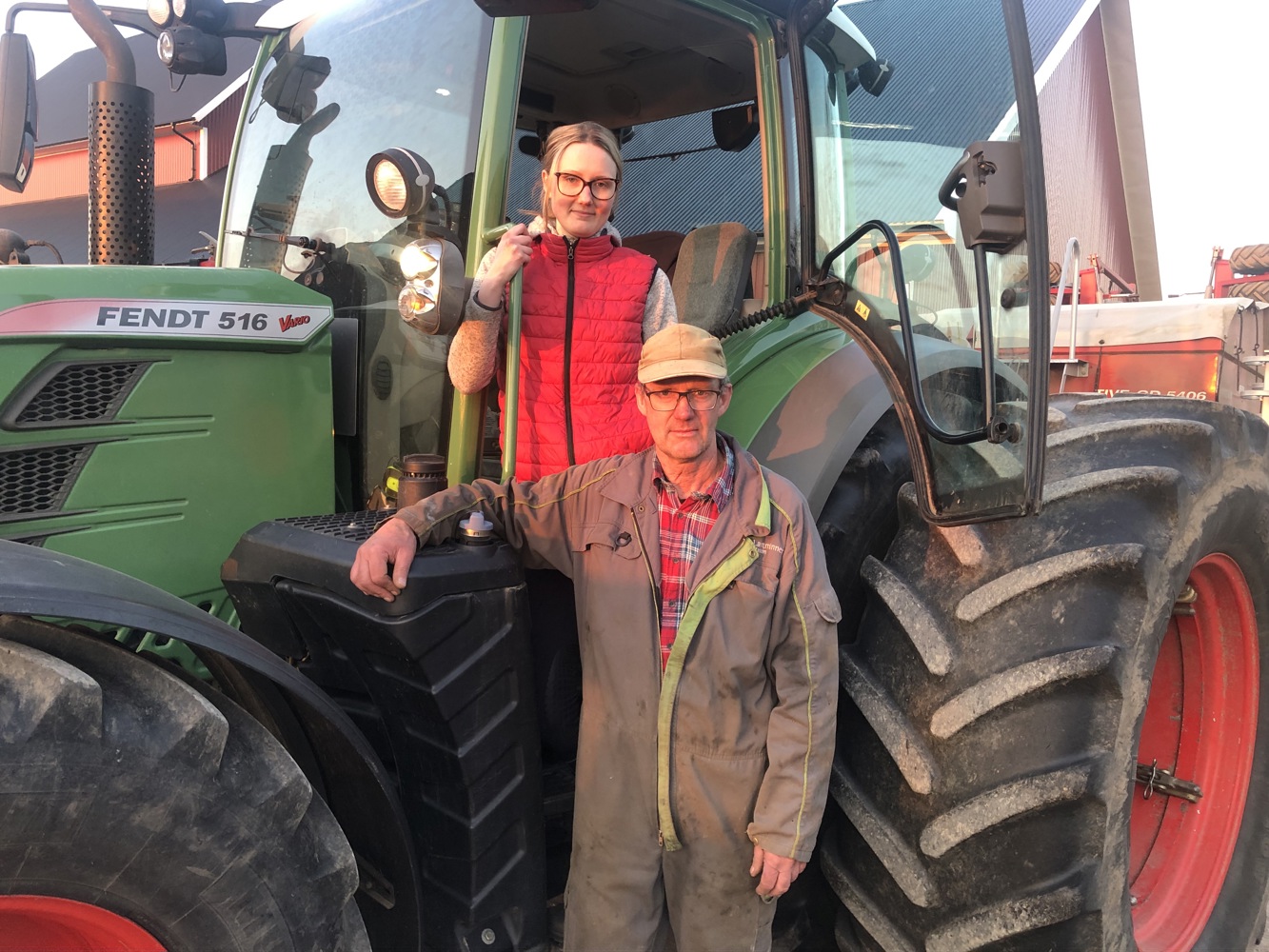 Due to an unusually wet spring behind, much of the work that usually has been completed by now has not yet been done, but as the period during Easter offered good weather the family was able to make up for a lot of the work.
"As of now we are waiting for it to dry-up after having had further rain so that we can get all the preparations for sowing ready. This sow of this year is unusually late. Last year we already had sowed at the turn of the month March/April. We hope to get started within the coming week and be ready during the end of April. But you never know, you always have to be prepared for the changes in weather. In early May we will also sow green peas."
This year's winter, which affects both the autumn-sown crops and the spring sowing, was on a whole normal - with somewhat milder temperatures in the far north and the far south, while it was a little colder in southern Norrland and northern Svealand. However, January was mostly rainy in all of Sweden with some places in the south achieving record levels of rain.
"Yes, it was a relatively normal winter followed by some precipitation at the beginning of the year. But nothing really serious. Here at our farm, the winter wheat looks nice, even if the rapeseed has unfortunately been affected - It looks a bit sad right now but usually perks up when the heat and sun come, so it will certainly be good anyway. I think the fields looks good."
A recurring topic of discussion is the impact of the world situation on agriculture, food supply and pricing. Pernilla says that there are of course some concerns, but she still takes it all in stride.
"Of course, there are some concerns about pricing and that the debate about high food prices would put greater price pressure on us farmers who already work with high risk. But apart from the fact that we have had to buy some other fertilizers than we usually do, most things are still as usual for us. Since we store some grain here at the farm and sell our grain throughout the year, it is always about following the ups and downs of the market to pinpoint the best sales opportunity. We are constantly following what is happening in the world and how it affects the market."
So, in conclusion, what are your thoughts on this year's harvest?
"I would say it looks nice right now. But then you never know until afterwards. That's what makes it so exciting. But what we do know is that we will need food in the future as well, so our work feels incredibly important."